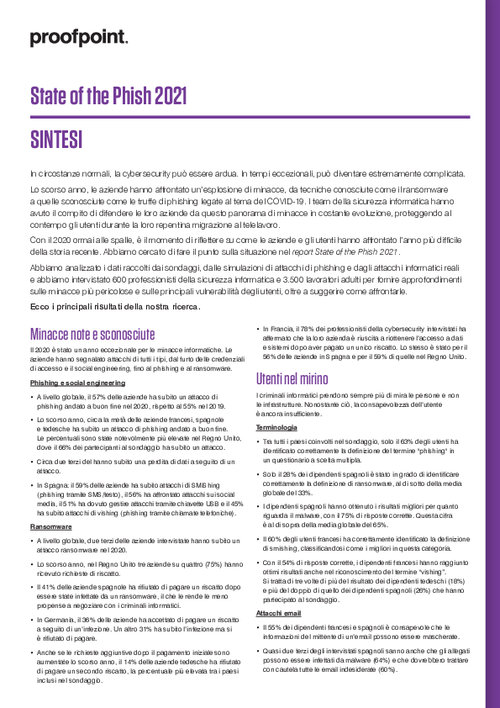 Mentre entriamo nel secondo anno della pandemia globale, i team IT e della sicurezza delle informazioni continuano ad affrontare sfide su tutti i fronti. Oltre ai problemi di cybersecurity cui sono ormai abituati, devono gestire l'esplosione delle truffe di phishing che sfruttano il tema della pandemia e il costante aumento degli attacchi ransomware, tutto mentre gestiscono la migrazione di un gran numero di utenti verso ambienti di telelavoro, praticamente da un giorno all'altro. Quanto sono preparati gli utenti?
Il settimo report annuale State of The Phish affronta questi e altri argomenti, ponendo l'accento su dati d'analisi fruibili sullo stato attuale delle minacce di phishing. Scoprirai:
l'impatto degli attacchi di social engineering;
il tasso di fallimento, il livello di segnalazione e il fattore di resilienza a livello di azienda, settore di attività e dipartimento;
come le minacce emergenti e i dati specifici per la tua azienda possono (e devono) permetterti di adattare le tue difese informatiche;
le lacune a livello di consapevolezza e comportamenti di cybersecurity degli utenti che potrebbero mettere in pericolo la tua azienda;
le tendenze relative alla formazione di sensibilizzazione alla sicurezza informatica e i suggerimenti per migliorare l'efficacia del tuo programma.