Top 10 Interviews of 2009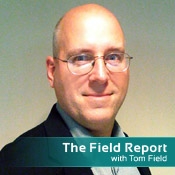 No, that's not how many failed banks there have been so far this year (close, though). Instead, that's the number of podcast interviews I've conducted and published so far this year: 141.
From Heartland to H1N1, regulatory reform to information security careers, my conversations have run the gamut of relevant topics, and I've been blessed to speak with thought leaders throughout the private and public sectors, as well as academia.
From Heartland to H1N1, regulatory reform to information security careers, my conversations have run the gamut of relevant topics.
To satisfy my own curiosity, I just checked to see what were the 10 most popular podcasts of the year. Here's what I found:
10. Insights on the Insider Threat: Randy Trzeciak of Carnegie Mellon's CERT.
We all know the risk of the insider threat is high, but what are the specific vulnerabilities for which organizations should be particularly vigilant? Randy Trzeciak of Carnegie Mellon's CERT program discusses recent insider threat research.
9. Regulatory Reform: What to Expect Next - Insights from Former Regulator Christie Sciacca.
President Obama in June spelled out the details of his long-awaited plan for financial services regulatory reform. Christie Sciacca, formerly with the Federal Deposit Insurance Corporation, currently a director with LECG in Washington, D.C., discusses what to expect next in the reform process
8. The CAE at 10: Interview with Dickie George of the NSA.
Ten years ago, the National Security Agency (NSA) started up the Centers of Academic Excellence program to encourage stronger information assurance programs at colleges and universities. Initially, there were 7 designated CAE schools.
Today, the ranks have swollen to over 100 CAE-designated schools, and information assurance professionals are much better prepared to tackle the cybersecurity challenges we face. Dickie George, Information Assurance Technical Director within the NSA, discusses what to expect from CAE in its second decade.
7. Incident Response for Data Breaches - Shane Sims, PricewaterhouseCoopers.
A veteran cybersecurity pro, Shane Sims shares his insights on trends he's seeing as cybercrime continues to hit all companies, including financial institutions. Sims is currently a Director in the Forensic Services practice at PricewaterhouseCoopers, where he provides investigative, forensic technology, security incident response and cyber security services to commercial and government clients. He is a former FBI Supervisory Special Agent who specialized in cybercrime, digital evidence, computer exploitation, and network surveillance.
6. H1N1 Update: How to Prepare for Flu Season - Regina Phelps, Pandemic Expert.
How should businesses and government agencies prepare for the expected widespread return of the H1N1 virus? Regina Phelps, a noted expert in pandemic preparedness, updates us on H1N1, discussing how individuals and organizations can take steps today to ensure effective response to H1N1.
5. Swine Flu: "This Could be Our Next Pandemic" - Regina Phelps, Emergency Management Expert.
As the swine flu outbreak triggers new fears of a global pandemic, security organizations must dust off and review their emergency management plans. For insight on how to prepare for swine flu, pandemic expert Regina Phelps offers expert insight on what you need to know about swine flu.
4. Heartland Data Breach: Doug Johnson, American Bankers Association.
Scores of banking institutions have stepped forward and said they and their customers have been impacted by the Heartland Payment Systems data breach. But what can and should they do to understand and respond to the breach? Doug Johnson of the American Bankers Association discusses where banking institutions can go to get additional information, and what to tell bank customers.
3. What You Don't Know About the World's Worst Breaches - Dr. Peter Tippett on the 2009 Data Breach Investigations Report.
Verizon Business investigated 90 major data breaches in 2008, including 285 million compromised records. Nearly ¾ of those breaches were external hacks, and 99.9 percent of the records were compromised via servers and applications.
Dr. Peter Tippett, VP of Technology and Innovation at Verizon Business, discusses what these results mean to financial institutions and government entities.
2. Anatomy of a Data Breach Investigation: Alain Sheer, FTC Attorney.
While the FTC will neither confirm nor deny a Heartland investigation, staff attorney Alain Sheer does offer his insight on how the FTC investigates data breaches like Heartland's, plus the timeline and milestones of such an investigation.
1.Heartland Breach -- What it Means to Banking Institutions: James Van Dyke, Javelin Strategy & Research.
The Heartland Payment Systems data breach - it's the biggest security incident of 2009. But how big is it really? What are the key takeaways for banking institutions left explaining this breach to their customers? James Van Dyke, Founder and President of Javelin Strategy & Research, discusses the implications of the Heartland case, offering insight on conclusions we can draw from the Heartland breach.