4 Crime Rings to Watch
The Global Gangs that Can Break Banking Institutions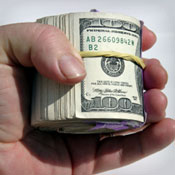 International financial threats posed by organized crime rings should be catalysts for strategic change at banks and credit unions. In fact, a new study concludes the U.S. government's ramped-up effort to fight organized crime is giving financial institutions incentives to change.
See Also: Breaking Down Ease-of-Use Barriers to Log Data Analysis for Security
Fraud fighting is a cross-channel issue, although a majority of U.S. institutions don't understand this, says David Nussenbaum of the consultancy Ernst & Young, which conducted the study.
"This is an opportunity for banks to think creatively," says Nussenbaum, who heads Ernst & Young's fraud control advisory and implementation practice. By reviewing suspicious transactions that raise flags on watch-lists, financial institutions can think more broadly about fraud detection and risk mitigation. he says. It's a chance to open communications between compliance and fraud departments.
Related Content
"As we've been trying to say before, these people are not just laundering money; these people are committing fraud," he says.
Pointing to threats such as card skimming, often backed by crime rings in Russia and Eastern Europe, banks and credit unions need to connect fraud dots across the enterprise, Nussenbaum says.
Organized Crime's Impact
Most organized crime efforts aim to compromise or target financial institutions and other financial players.
Globally, organized crime may bring in as much as $2 trillion annually, and much of that is likely being siphoned from and laundered through consumer and corporate bank accounts.
So if a bank's anti-money laundering department picks up on suspicious transactions linked to a certain part of the world, it should notify other teams to get them involved as well.
"We're learning how astute the organized crime community is," Nussenbaum says. "We have to have similar, and, frankly, better levels of coordination and communication," to stop or even curb fraudulent activity. "It's a perfect example of how communication has to be shared between the AML sanctions area and the fraud area - and that calls for more integration," he adds.
Four Crime Groups Targeted
The most significant signal of the government's intensified effort to fight organized crime in the financial sector and other arenas is President's Executive Order 13581, signed in July 2011. The order enables the imposing of sanctions against transnational criminal organizations that pose significant threats to national security, foreign policy and the economy. It authorizes the Treasury Department to impose sanctions against individuals and entities that have assisted, sponsored or supported efforts that go against the order.
Four international crime groups based in Japan, Italy, Russia and Mexico immediately were sanctioned when the president signed the executive order last year.
The groups singled out by the Obama Administration are:
The Brothers' Circle, a group based primarily in Russia with connections to the Middle East, Africa and Latin America that focuses on card fraud;
The Camorra, based in Italy and focused on counterfeiting and narcotics trafficking;
The Yakuza, based in Japan and focused on drugs, weapons and human trafficking, as well as white-collar crimes linked to legitimate business in construction, real estate and finance; and
Los Zetas, based in Mexico and focused on drug trafficking, extortion, money laundering, intellectual property theft and human smuggling.
In its new study of international financial threats posed by organized crime rings, Ernst & Young evaluates the impact these new sanctions will have on U.S. banking institutions, and steps banks and credit unions should be taking action now to ensure they comply with forthcoming mandates. [See Ernst & Young's website for background about international trends in bribery and financial corruption.]
Brian Grant, who spent 10 years with the Treasury before joining Ernst & Young's fraud investigation and dispute services practice, says the government is very interested in monitoring organized crime threats. "Right now they are mapping these networks out and leveraging information," he says. "They're meeting with the international community and sharing what they learn with foreign governments. They are trying to make this fight a global effort."
The Risks Involved
Latest Tweets and Mentions